Gespeichert.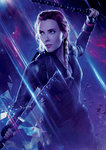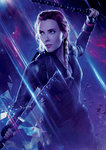 "You know, if you're about to tell me to look on the bright side - I'm about to hit you in the head with a peanut butter sandwich.." - Natasha
Okay.... Natasha hat extremst viele Pluspunkte gesammelt nach Endgame und darum MUSSTE ich sie einfach cosplayn.
Zu dem cosplay gibts nicht viel zu sagen. Das ist gekauft, da es so eine extreme Spontan entscheidung war nachdem ich den Film geguckt hatte. Ich leide und weine übrigens immer noch darüber! xD
Hoffe ich bekomm irgendwann ein shooting mit Hawkeye TAT das wäre so perfekt für dieses cosplay.
Meine Batons sind im moment noch im Druck also hoffe ich auch auf bilder damit wenn die fertig sind.
" For the last five years I've been trying to do one thing, get to right here. That's all it's been about. Bringing everybody back." - Natasha