Gespeichert.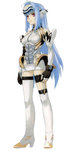 I MADE THIS COSTUME IN 2 WEEKS. WHY DID I THINK THAT WAS A GOOD IDEA? WHY?!?!?

I made Kos-Mos a few years back before I really knew what I was doing. I learned ALOT from the making of this costume. I had to make my own patterns from TOTAL scraatch for everything. I also learned about the process of armor making and how to utilize different materials that I would never have thought about before. MCGUYVER FUCK YEAH.
Also gradient dying wigs. WIGS. WTF. A learning experience indeed. It turned out okay given my skill level back then. Also, the fact that I gave myself about 2 weeks to make it before the con. O lordy this was a long time ago. MANY MANY MOONS AGO. WHEN I WAS YOUNG AND PERKY.

One day I'll re-make this with my (HOPEFULLY) improved skills. ONE. DAY.